UPDATES
The team from Adventure Christian Church in Roseville, CA, has been such a blessing and so much fun! You can read their blog and see pictures HERE!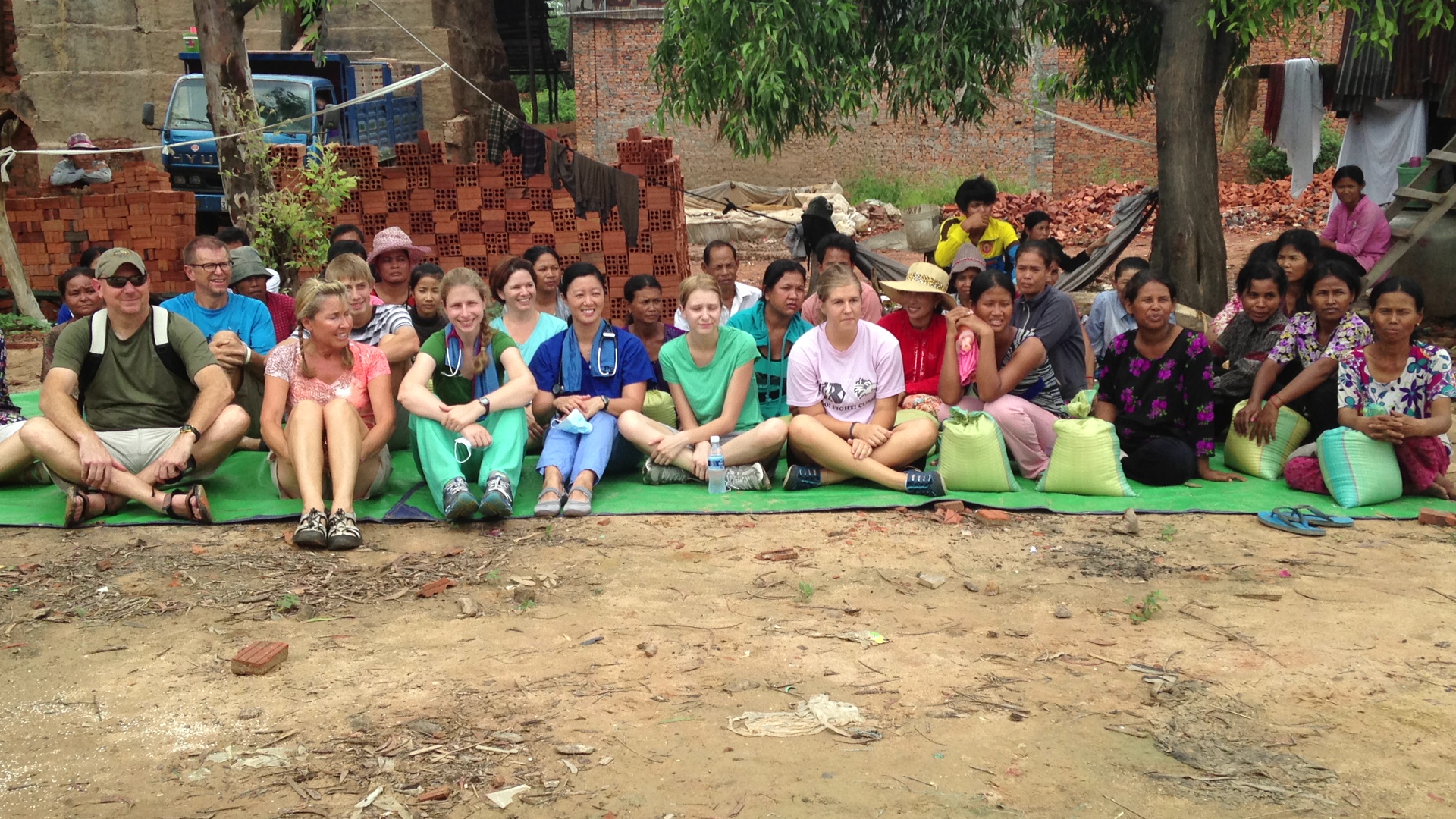 They, along with Dr. Carla and our Rahab's Outreach Center team, treated and encouraged so many sick and hopeless, working hard in the heat and sun at the brick yards. They were caught up in the political parades getting delayed on their way out to Svay Pak but God made up their lost time in miraculous ways. They brightened up Kid's Club, the Lord's Gym, played some fierce ping pong.
Plans are in motion to provide a safe karaoke atmosphere for the young adults here in Svay Pak. Pray for God's blessings on the project. The young people here need a safe place to have fun and come to know about Jesus.
The Butler clan in Siem Reap are planning great things, guiding the girls in Christ's wisdom.
The SECOND AIM Employment Center is nearing completion! Pray for Jared and Sophy as they are in the final stretch of training, planning and readying the property and people for work.
We had some really great, generous teams visiting from Hong Kong, Korea and New Zealand this week. Looks like we may have some more supporters and partners coming to AIM wanting to fight the good fight in faith.
The documentary NEFARIOUS has done so much to bring awareness and support for us. God bless you Exodus Cry and Benji Nolot!
AIM Restoration Home girls are loving their new computer lab! Learning is fun thanks to Rosetta Stone, (and Krista) they are so quick to learn! Praise and gratitude for the staff!
The American 5 (five girls who testified and remained in the US in 2011) are doing so well. God provided the best families for them. Thank you families and thank you, Jesus. Pray for one here in Cambodia, she needs to go to the USA to testify at a trial. We are having a hard time obtaining her passport and visa. Pray for that miracle, please.
PRAYER
As always, God's provision, protection, wisdom, strength. Please pray this weekend for Cambodia as a whole as elections are this weekend. Pray for peace, wisdom, direction.
V & E are living at Wat Phnom. It was interesting the New Zealand visitors ran into V who told them she loves ARC, Rahab's House and knows we love her and protect her children. She knows she makes wrong decisions, but she can't stop it right now and pray for her to stop making poor decisions. Both of these girls are addicted to meth ( yama, yaba, speed- all poison). Pray for their release from addiction and to return again to their home with us.
The girls at RHPP are doing fine after the recent gangs trying to break in. Christ protects them and that building as well as our disciple men. They are sleeping well at night.
Pray for the Lord's Gym. We'd like to improve the conditions they train in with a well lit and ventilated ring for them to train in. They are so diligent and respectful towards Coach and Sopheak when they start the day with a devotion and prayer. Some are still thugs and not Christian, but know they are not judged but loved and encouraged at The Lord's Gym. Stragglers keep returning, which is so encouraging to us. There are twin boys that float in and out, we met them when we first came to SP over 5 years ago. Pray they will answer the door to Christ's knocking.
Moses and Samantha are traveling a lot, they just returned from a trip to the USA for health check ups. They are doing well, but work long, hard hours and need to rest when they can and should.
Some confidential requests. God is doing great things through His people here and the enemy is trying to take some of them out. We know God has the final say and victory, but going through some of these situations is so tough in addition to all the trauma, abuse, rescue, restoration and Kingdom work we do. Please pray God will give us the words that help encourage them.
Again, please pray for the elections this weekend, for God's will to be done, for restoration in this country. Pray for the corruption to be dissolved so children can be rescued instead of being the greatest national product for sale and torture.